BMSSuite - How to import the hardware configuration back into BmsSuite
This can be relevant when required to adopt the existing hardware modules configuration instead of the wizard values.
NB: Prior to this step need to collect the existing configuration from the system.
Step 1 - Navigate to Configuration from Home menu
Step 2 - Navigate to the Advanced Setup menu
Step 3 - Navigate to the CellMon settings
Step 4 - Select the cellmon supervisor using the edit/view button (hardware device aka SiMon)
Step 4 - navigate to the CellMon Group - Properties tab
Step 5 - Press Match to adopt the hardware device configuration to the system architecture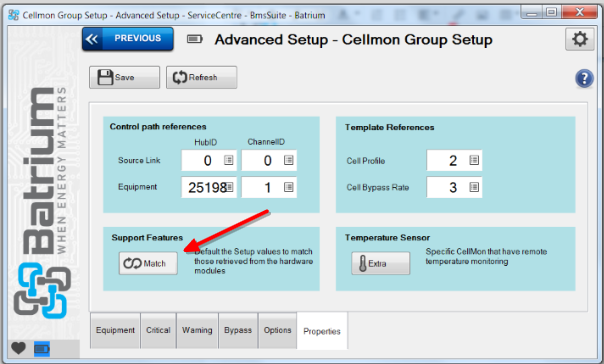 Ensure the changes collected are what is expected.
Step 6 - If modification have occurred press Save
Step 7 - ensure that Device Sync has been run successfully
 

Addendum

The equivalent steps can be completed for the charging system architecture.

 

cart-item__original-price cart-item__price