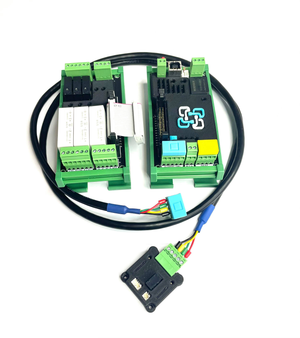 WatchMon-CORE to suit Individual Cell Monitors
Sale price Price $253.00 Regular price Unit price / per
WatchMonCORE - Cell Monitoring Options

Choose the options to go with your WatchMon CORE

ADVISORY: LIMITED AVAILABILITY OF CELL MONITORS
BlockMon M8: Available in stock

LongMon: Available in stock. 

LeafMon: Available, on request.

BlockMon M14: Availability. 
WatchMonCORE can still communicate with distributed cell monitors:
BlockMon-M8 for Prismatic cells to ease mounting
LongMon for Typical 18650 repurposed cells
LeafMon for Nissan Leaf cells
Introducing the next generation of WatchMon supervisors. This revamps takes the lessons we have learnt from WM4 and builds on this proven platform with a few new features.

WatchMonCORE will be the core building block and additional components will link to this supervisor in the future.
Overview
BMS to suit LiFePO4, Lithium-Ion or custom chemistry
User configurable parameters and control logic
Configurable 30vdc 5A relay  (i.e. remote circuit breaker trip, contactor or fan)
Additional inputs/outputs via Expansion Board purchased separately
Compatible with all Expansion Board (series 1, 2, or 3)
Clock with a backup battery
Data logging of key metrics for 10 years
firmware upgrades via USB
4-stage display of State of Charge (SoC%) 
External ambient temperature sensor
Easy-to-use pluggable screw-terminal connectors
With distributed cell monitors capable of 28 Ah/day balancing adjustment for each cell 
Link to Shuntmon with 500A or 1000A power rating
Compatible with MultiMon MM8
Remote Communication
WiFi connectivity (normal, disabled, or read-only)
CAN bus Opto-Insulated to remote charger/inverter equipment
future feature to connect to the cloud portal via MQTT (secure link).

Built-in 8v to 30v DC-DC supply
With WiFi enabled consumes ~1.7W (Typical 48v battery budget 1Ah/day)

When powering the WatchMonCORE (version 4.5) with a supply above 30Vdc (i.e. 48V battery pack voltage), always connect to an isolated DC-DC (ideally 24Vdc) to ensure a robust, long-term, and reliable product.
Inside the box:
1 x WatchMonCore
1 x USB A-B 1.5m extension cable
1 x Temperature sensor

1 x Screwdriver
1 x Sticker
Support content options
24 / 7 access to support content and video
Email Support (Fair use)
Teamviewer remote interactive sessions
Extra Support - *Email fair use is included free but if you need more help and advanced technical assistance, you can buy upfront or later on an as-needed basis via Zoom or similar.
Improvements
Easier to use layout than previous models
Cell Monitor port (aka CMU) now with its own external fully isolated communication module named "IsoMon3" that can link to LongMon, BlockMon and LeafMon
CMU and Shunt serial ports have a different number of pins to avoid confusion
New onboard Relay (30vdc 5a relay) making it easier for DIY wiring


Optional Expansion Board (series 3) details

3 x Mechanical 30Vdc 5A relay outputs
3 x Solid state relay SSR 65vdc 5Amax isolated modules outputs (1A cont.)
2 x Isolated inputs 5-65vdc sensor channel
2 x ADC 0-5vdc (future development option)
1 x RS485 Serial port (future development option)
1 x Remote Addressable LED (future development option)
Compatible with all supervisors

Optional extras can be purchased: 

Expansion Board
500A or 1000A Shunt Monitor
Cell monitors to suit your battery
Extra Support - * Email fair use is included free but if you need more help and advanced technical assistance, you can buy upfront or later on an as-needed basis via Zoom or similar.

Helicopter preview of the Product with Optional Expansion Board 3
Overview and Unboxing
 
Step-by-Step Supervisor Installation with LongMons
 

cart-item__original-price cart-item__price